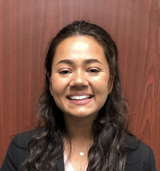 Dos Pueblos High School senior Nora Kelly was named as the 2019 Goleta Teen of the Year at a ceremony on Tuesday, October 22 at Glen Annie Golf Club.
School Information: Senior at Dos Pueblos High School
Parents: Brian Kelly and Helen John-Kelly
Donation: Nora has requested that the Rotary Club of Goleta Noontime make a donation on her behalf to Medical Missions for Children(MMFC)
Nora has been volunteering with Medical Missions For Children since she was just 11 years old in Rajasthan, India and Cusco, Peru. MMFC is an organization that changes lives by performing free surgeries for children in impoverished regions around the world who are born with cleft lips and palates, along with ear deformities. She annually attends the week-long trip to Cusco, Peru to help organize operating room set-up, assists surgeons in surgery and works intimately with the families and children from every step pre and post-operation. Outside of the week-long mission trips, Nora is pioneering ways to advance MMFC locally by starting toothbrush drives in school for the dental teams and helping set up fundraisers in town to raise money for the missions. Nora's ambitious and passionate spirit is also pervasive in the local community, as the Editor-in-Chief of The Image, Dos Pueblos' nationally recognized yearbook, President of her high school's National Honor Society and an active member of her Varsity mock trial team. Her love for helping others, a knack for leadership, and creative spirit have motivated her to one day attend medical school. Nora wants to become a plastic surgeon and continue to be a part of the change that has inspired her today, closing the gap between modern medicine and third world struggle.

Andrew Kowblansky a Senior at DPHS was named runner up: